Our Consultants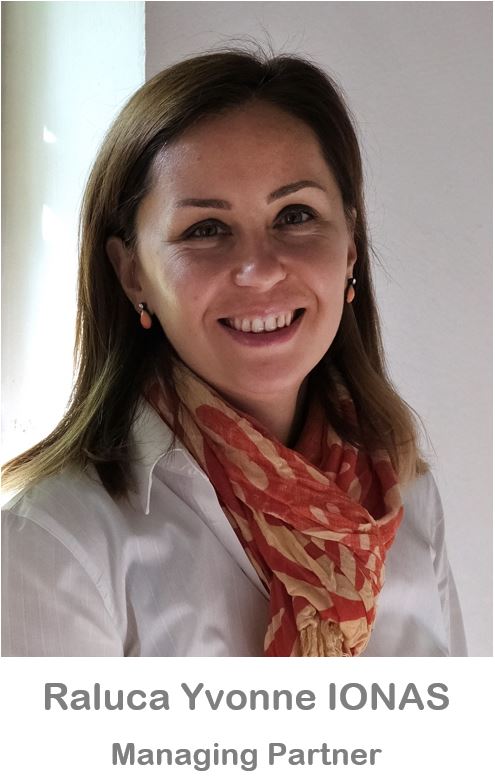 Raluca Yvonne Ionas – Co-Managing Partner, started her career in the recruitment business early on, soon after 2000, following a brief encounter with various social and consulting activities. It was within Business Intelligence Agency (BIA), one of the major players on the Romanian recruitment market, where she covered all the professional stages, from apprentice to senior consultant.
She joined George Butunoiu in 2006 as a Consultant, to later became a Partner in 2012 and Co-Managing Partner in 2018.
Raluca conducted a relevant number of Executive Search projects in the past 16 years, focusing on executive and non-executive directors and senior managers for different industries: FMCG, IT&C, Banking, Industrial Sector, Services, Media & Entertainment. Owing to her dedicated approach and transparency, many of her assignments come from repeat clients.
Raluca also has established herself as a long-standing trusted advisor to the owners of privately held enterprises. Her understanding of the needs of entrepreneurs has permitted her to build up a large number of successful management teams for family-owned local companies. Furthermore, Raluca has acquired an excellent reputation among the most well-known specialists in for executive and non-executive board appointments both for private and state owned companies.
Raluca holds a degree in Psychology and a MA in HR Management from the University of Economic Sciences in Bucharest.
She is fluent in English and can speak German.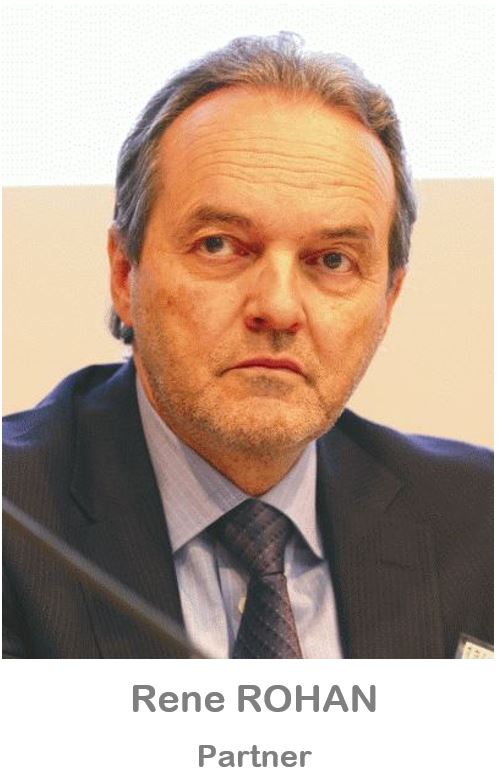 Rene Rohan – Partner, started his professional career in the academic environment, teaching for the Polytechnics University in Bucharest, where he reached the position of Vice Dean of the Mechanical Engineering Faculty. He has the privilege to claim many of his past students as successful and influential business leaders in Romania's economy today.
In the early 90s, Rene became one of the first managers in a transitioning Romanian market economy to qualify in sales and marketing, as part of the management team of large multinational companies that pioneered the virgin Romanian market at the time: Interbrands, MasterFoods, R.J.Reynolds Romania. For RJ Reynolds, Rene also held the title and responsibility of Country Manager for Bulgaria. Rene also is recognized as a mentor of many young managers, always with a keen ability to build successful and sustainable marketing and sales teams.
Later on, Rene's entrepreneurial spirit inspired him to found his own multi-million dollar companies, with hundreds of employees. Years later, he sold them all in order to devote himself to a career in management consulting, primarily focusing on restructuring projects.
He joined George Butunoiu in 2006, first as an advisor, later becoming Partner with main focus on the technology sector.
Rene holds a degree in Engineering from the Polytechnics University of Bucharest, and also an Advanced Management Program certification from International School of Management in INSEAD, France.
A co-writer of various research works, articles and books dealing with his area of expertise, he also holds a registered trademark in engineering.
Rene is fluent in English and French.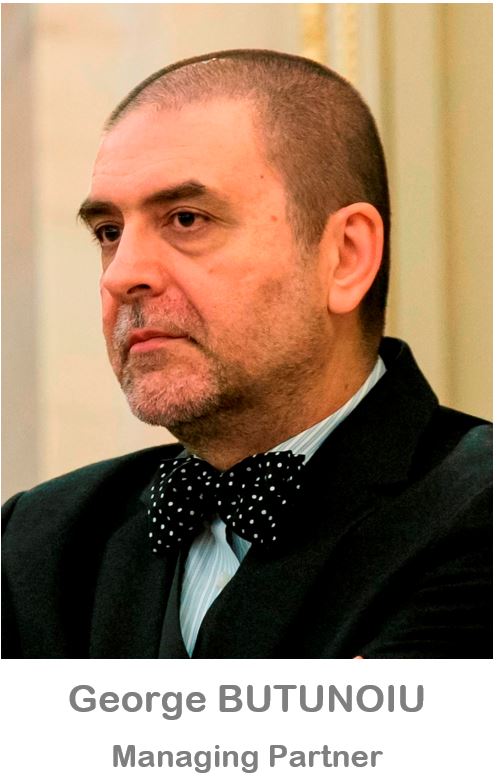 George Butunoiu – Managing Partner, a disciple and apprentice of Daniel Porte and Pierre Ranque in Paris, was the first Romanian to establish a recruitment business, back in 1990. He incorporated the first Romanian Executive Search firm in 1992, which soon after joined the Austrian Dr. Jenewein Group, and become Dr. Jenewein Romania.
George Butunoiu joined Ward Howell Euroselect in 1996 as the Managing Partner of the Ward Howell Romania office. He created his own company, George Butunoiu  in 2006, together with other business partners.
After his studies, George Butunoiu spent a short tenure as a researcher in nuclear physics. In 1990, his business career began very shortly after the Romanian Revolution. He set up several companies, one of which becoming a market leader in business software. Since 1992, Mr. Butunoiu has been working exclusively in executive search and HR consulting.
As an author of a variety of business texts, as well as a founder and an active member in different business organisations, associations and projects, George Butunoiu is one of the major players of the Romanian consulting market.
George Butunoiu holds a degree in Physics from the University of Bucharest, a Master's Degree in Business Administration from The Academy of Economic Studies and a Master's Degree in Human Resources Management from the National School of Political and Administrative Studies, Bucharest.
GB is fluent in English and French.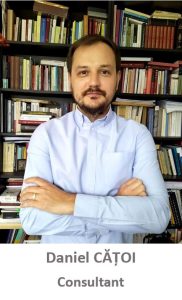 Daniel Cățoi – Consultant has a humanist-theological education. He holds a Bachelor Degree (2009), two MAs (dogmatic and biblical theology) and a PhD in orthodox biblical theology (2020), issued by the University of Bucharest (Romania) and the Aristotle University of Thessaloniki (Greece).
He was an editor at The Publishing Houses of the Romanian Patriarchate and at the periodical Glasul Bisericii, and he is currently a collaborating editor at The Publishing House of Sf. Gheorghe Vechi. He published a few specialized studies in the field of biblical theology, as well as translations from & to Modern Greek.
He joined George Butunoiu in 2016, becoming the editor-in-chief and manager of the Musical Society (Societatea Muzicală), a position from which he managed most of the projects: Societatea Teologică, Elitele României, Locurile Culturii, Mihail Jora National Contest, Societatea Culturală, Politoscop, classical music concerts and other cultural activities.
Starting 2018, Daniel Cățoi also collaborates with George Butunoiu Executive Search on recruitment activities for management positions at large Romanian and international companies in the public or private sector from a wide range of industries (Banking & Assurances, FMCG, Pharma, Entertainment, Real Estate, Industrial Sector & Manufacturing, Energy, Transport & Communications, Media, etc.). His focus is on a series of specific recruitment procedures as: identifying channels for posting/ promoting ads, sourcing, contacting, evaluating and selecting candidates. He is also responsible for maintaining contact with candidates and clients throughout the recruitment process.
He is fluent in English and Modern Greek, and has an intermediate knowledge of ancient Greek.